Peterborough artist Nick Leniuk, who is a first-generation Ukrainian Canadian, is raising money for humanitarian efforts in Ukraine by auctioning off a special piece of art.
Best known for his tree sculptures, Leniuk created a piece titled "Rise Above" which features a hand-carved serpentine stone sunflower – Ukraine's national flower – with an emblem of peace in the center. Mounted on rough board stained with the colors of the Ukrainian flag, the artwork measures 21.5 inches wide by 13.5 inches high and is threaded for wall mounting.
While looking for a sunflower to incorporate into the room, Leniuk connected with an artist on Instagram named Yana @yamurchik.art – who happens to be Russian – and asked him if he could use his sunflower drawing. She was thrilled that Nick used her design.
Advertisement – story continues below
"A piece of my soul is embedded in each of my illustrations," says Yana. "Thank you Nick for the opportunity to get involved in a good cause. I believe that only kindness and participation will save this world.
Leniuk is accepting offers for "Rise Above" until 4 p.m. next Monday (March 28) via direct message through his instagram and Facebook accounts. He will donate all proceeds from the auction to the Canada Ukraine-Ukrainian Canadian Congress Foundation.
Leniuk's personal connection to Ukraine comes from his father Antony, who immigrated to Canada from Ukraine after World War II. He moved to Kapuskasing, Ontario, married and raised five children.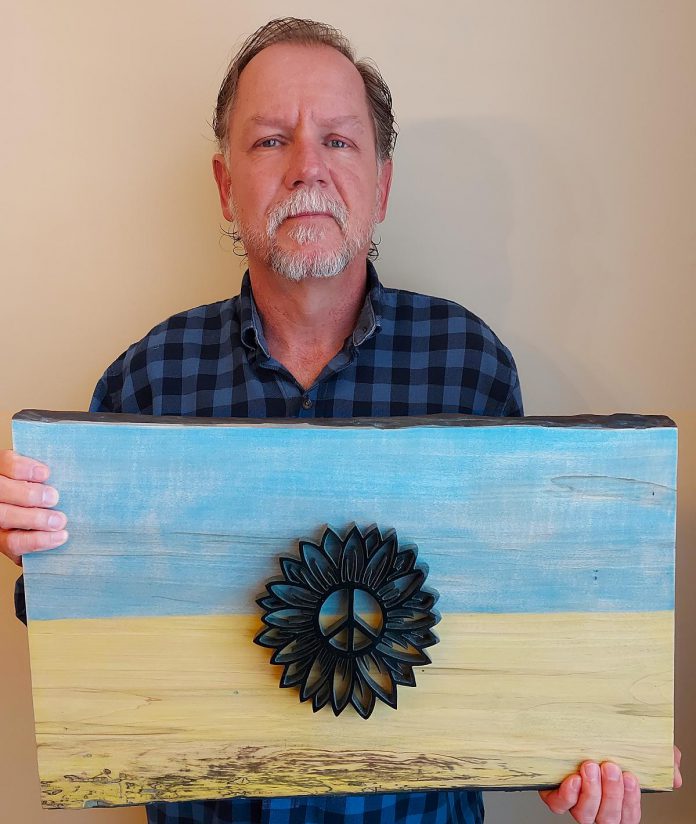 In May 2020, Leniuk was planning a visit to Ivano-Frankivsk in Ukraine to bury some of his father's ashes at his grandparents' grave. He had to cancel the trip due to the pandemic but hopes to be able to visit his father's birthplace in the future.
For more information on Leniuk's fundraising effort or to view the artwork in person, email him at [email protected]